Tom Vincenti & Kent Morgan win Low Gross, and Ryan Arnold & Brian Iciek take Low Net.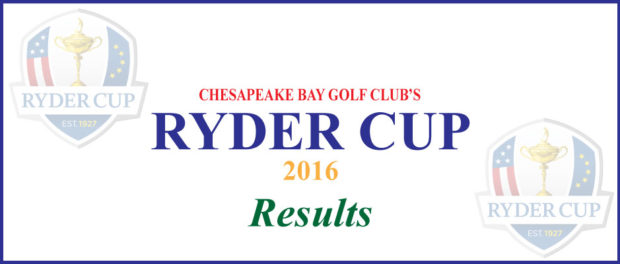 Ryder Cup Results
Sunday, October 2, 2016 at Chesapeake Bay Golf Club's Rising Sun Course
Chesapeake Bay Golf Club's first ever Ryder Cup Tournament was a fun, 2 Person Team event with a split format that included Select Drive/Alternate Shot, Scramble, and Best Ball.
Team Net and Gross Prizes were awarded, with Lunch & Beer served after the round in the Players Grille.
FORMAT
1st 6 – Select Drive / Alternate Shot
2nd 6 – Scramble
3rd 6 – Best Ball (Four Ball)
RESULTS
| | | |
| --- | --- | --- |
| Low Gross: | Tom Vincenti & Kent Morgan | 75 |
|   | | |
| 2nd Gross: | Joan Martin & Shelly Pinkerton | 82 |
|   | | |
|   | | |
| Low Net: | Ryan Arnold & Brian Iciek | 68 |
|   | | |
| 2nd Net: | John Baynes & Jim French | 69** |
|   | | |
| 3rd Net: | Dave Whitlock & Tammie Vincenti | 69 |
**Finished 2nd on a match of cards