Albatross on Hole 12!
Makes a rare Albatross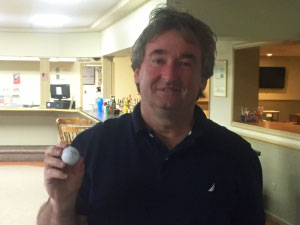 Congratulations to Tom Martin of Newark, Delaware who made an amazing Hole in One on Chesapeake Bay Golf Club's Rising Sun Course's 12th Hole – a 290 yard par 4 on Tuesday, April 19, 2016. Using his driver, Tom aced the par 4 for a rare double eagle or "Albatross" – a 3 under par score on a hole.
Albatross – Double Eagle – 3 Under Par
Source: doubleeagleclub.org
"There are several ways to explain the golf scoring terms "double eagle" or "albatross".
An albatross golf score is a term used for three under par on any single hole. An albatross is an extremely rare sea bird, and it's the largest of all sea birds.  Their wing span can be more than 10 feet long, and they can fly for extremely long periods of time and distances.  This is the reasoning behind why it's used for a three under par golf score on one hole; because it's so rare, but also because in order to land an albatross golf score on your card, you're going to have to hit a golf ball that will fly for a time and for a far distance.  A golfer can only achieve an albatross in golf on par-4s and par-5s.  It's impossible to make an albatross on a par-3 because that would mean you would have to make a zero to achieve three under par… and that's not possible.
Any albatross score is made mainly on par-5s by holing out from the fairway on the second shot to make a two.  This is because of the simple fact that there are far more chances to reach a par-5 in two than there are drivable par-4s on the golf courses across the world.  An albatross golf score is so rare that it's hardly ever seen on TV or in person, much less even heard about.
The only way to make a golf albatross on a par-4 is to make a hole-in-one, and these scores are only reserved for the longest hitters of the golf ball because that's the only chance.
The term probably used more so than the actual golf albatross term is "double eagle".  These terms are interchangeable as they both mean the same thing.
The most famous albatross, or "double eagle", was made by Gene Sarazen in April 1935, and it propelled him into a tie for first place at the Masters Tournament held at the Augusta National Golf Club.  Gene won the playoff the next day.  The great sportswriter, Henry Grantland Rice, termed it "the shot heard 'round the world".  One day after making his albatross on the par-5 15th hole at Augusta, Gene referred to his shot as a "dodo"… once again another bird name to describe a score in golf.  Ab Smith said that he and his fellow golfers also used the phrase "double eagle" for a three-under-par score."