Opening Day "Texas Shamble"
Sunday, April 26, 2015 at North East Course
"Texas Shamble" Opening Day Optional Golf Event Sunday, April 26, 2015 at North East Course. Select Best Tee Shot, then Play your own ball.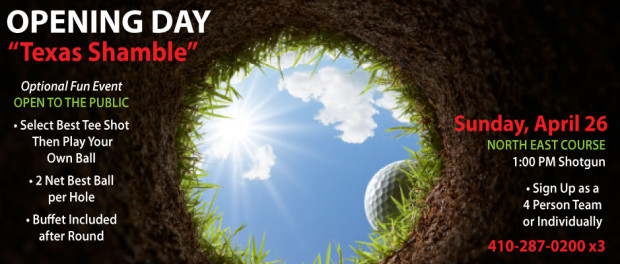 2015 Opening Day Event – A "Texas Shamble"
Sign Up Online | Contact Pro Shop: 410-287-0200 x3
Chesapeake Bay Golf Club's 2015 Opening Day Golf Event is Optional and Open to the Public on Sunday, April 26, 2015 at the North East Course.  This is Event is open to everyone at all levels of play. The Fun Format is a "Texas Shamble" and a delicious Buffet is included and will follow the round. Start the year off with this fun 4 Person Team Event!
Entry Fee
$25 Per Member Player
$55 Per Public Player
Includes Golf, Cart, Buffet following Round, Prizes
Breakdown: $15 for Dinner, $10 for Prizes
Event Format
4 Person Team Event
If Sign Up as an Individual, team will be picked by our PGA Golf Professionals
Net Event – 100% Handicap
"Texas Shamble" – Select Best Tee Shot, play your own ball in from there
2 Net Best Ball per Hole will be the Team Score
Prizes
Gift Certificate for the top 4 Teams
Closest To The Pin
General / U.S.G.A. Rules Apply
Ladies will play from Red markers
Men will play from White
Seniors 65+ may play from the Green markers
Any ties for first place will be a match of cards (USGA Procedure – Last 3 holes, Last 6 Holes etc)

You may move your ball 1 club length through the Green – no closer to Pin. You must mark ball and may clean ball and may place ball.

Ground under repair will consist of any cart paths – stone or paved
Out of bounds will be marked with a white line or white post
Lateral hazards will be marked with red stakes or red lines
Water hazards will be marked with yellow stakes or yellow lines
Stones in bunkers are movable obstructions (Rule 24-1 applies).
The "one ball" rule does not apply for the Championship.
Ground under Repair — Free Relief from all cart paths & flower beds. Take nearest point of relief plus one club length no nearer the hole, without penalty.

All putts must be holed (no gimmies).

If there is any doubt on how to determine a rule, play 2 balls:

Play original ball where it lies
Play 2nd ball how you determined rule

All rules will remain in effect unless otherwise posted by the Rules Committee
Pace of Play
Pace of play will be monitored
Penalty for first offense of slow play will be a warning
After the second offense you will be timed
A third violation will result in a one stroke penalty