Ladies Day!
All New Ladies Golf League
Ladies Day at Chesapeake Bay Golf Club ~ Our All New Tuesday Ladies Golf League is Open to the Public. Alternating Courses with different formats weekly.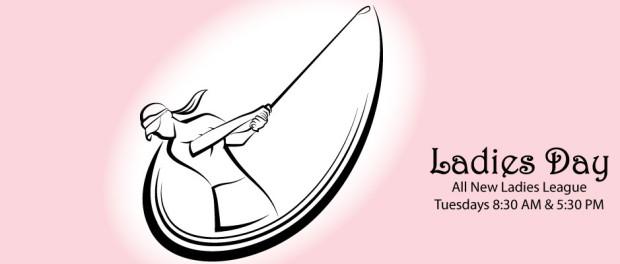 Ladies Day!

New Tuesday Ladies Golf League
2015 Ladies League Sign Up Sheet | Call Pro Shop 410-287-0200 x3
Tuesday Mornings ~ Alternating Courses each Week
Rounds begin April 7th, 2015
ABOUT:
No commitment – just play the Tuesdays that work best for you
Chesapeake Bay Golf Club's Ladies Day is an all new Ladies Golf League
Play 9 Holes Weekly with an 8:30 am or 5:30 pm Shotgun Start
Alternate between the North East and Rising Sun Courses weekly!
Great variety, competition and fun!
$10 Registration Fee
COURSE POLICIES:
$25 for 9 Holes weekly League Fee that includes Greens Fee, Cart and $3 Prize Pool will be charged at the designated course Pro Shop. All Players including Members and Non-Members must check in to Pro Shop and pay the league fee prior to play.
If you would like to play an additional 9 holes on league day an additional $10 charge will be charged after you hand your scorecard in.
Nines will be alternated weekly. Unless prior scheduled events and/or outings conflict with weekly rotation.
A prompt Shotgun starts at 8:30 am and 5:30 pm every Tuesday.  If play is rained out, scheduled format is cancelled and no contest will be awarded for that week. Players will still be able to get a reduced fee for one week to get round in.
Players are required to call in or let the Pro Shop know if they will be attending that week's play date. If you do not call, we will do our best to pair you on a first come first serve availability.
Every competition will include prepared scorecards, rules of play for the day and contest for the day.
Every Tuesday players can meet at the designated course at 7:30am for a one hour walk through of the course and tips from the pro.
At the end of each round a weekly league special will be available in the restaurants for an additional charge.
HANDICAPPING PLAYERS:
Chesapeake Bay Professional Staff has the right to change a player's handicap if it is thought to be incorrect. Any Player thought to be falsifying a handicap is up for dismissal from the league with no refund.
All Ladies Day members will be required to play a minimum of 4 nine-hole rounds to obtain an accurate and current handicap. All nine-hole scores in the month of March and April will be entered twice by the Chesapeake Bay Golf Club Professional staff – No scores given then a scratch (0) Handicap will apply until a Handicap can be established.
Ladies Day scores will be entered and maintained weekly by Chesapeake Bay Golf Club Professional Staff for accuracy.
All players will be required to post accurate scores for each hole played.
Players MUST post all scores for rounds of golf played outside of the Ladies Day.
RULES:
Golf Professional for this year will be Brian Mullin.
All questions and concerns should be addressed to the Golf Pro brianm@chesapeakegolf.com
USGA Rules will govern all play. Each week additional rules will be posted on a weekly rules sheet.
Players will alternate play each week between the North East and Rising Sun courses.

Course location is subject to change based on advertised schedule

. Any change in location will be published on prior weeks rule sheet.

Players are responsible for reading weekly rule sheet

.
A signature will be required from each player every week on the scorecard.
Player will compete in Callaway scoring for the first few weeks until a player has a handicap established. If a player does not have a handicap for a "net" week then the player will be considered a scratch handicap.
ADDITIONAL:
League members will receive discounted group lesson rates.
SCHEDULE & FORMATS:
| | | |
| --- | --- | --- |
| April 7 | Rising Sun | (Fewest Putts) Callaway format |
| April 14 | North East | (Closest to the pin Hole 9) Callaway format |
| April 21 | Rising Sun | (Most Pars) Callaway format |
| April 28 | North East | (Longest Driver on Hole 10) Callaway format |
| May 5 | Rising Sun | (Closest to the Pin on Hole 2) |
| May 12 | North East | (Fewest Putts) |
| May 19 | Rising Sun | (Longest Drive on Hole 10) |
| May 26 | North East | (Closest to the Pin Hole 18) |
| June 2 | Rising Sun | (Fewest Putts) |
| June 9 | North East | (Closest to the Pin on Hole 4) |
| June 16 | Rising Sun | (Closest to the Pin Hole 15) |
| June 23 | North East | (Straightest Drive Hole 10) |
| June 30 | Rising Sun | (Closest to the Pin in regulation hole 4) |
| July 7 | North East | (Longest Drive Hole 1) |
| July 14 | Rising Sun | (Straightest Drive Hole 10) |
| July 21 | North East | (Closest to the Pin in regulation Hole 16) |
| July 28 | Rising Sun | (Closest to the Pin in regulation Hole 5) |
| August 4 | North East | (Closest to the Pin in regulation Hole 9) |
| August 11 | Rising Sun | (Closest to the Pin in regulation Hole 13) |
| August 18 | North East | (Longest Drive Hole 11) |
| August 25 | Rising Sun | (Closest to the Pin Hole 2) |