Labor Day Weekend Raffle Giveaways!
Labor Day Weekend ~ Friday-Monday Aug 30-Sept 2
Get your Raffle Tickets for a Chance to Win!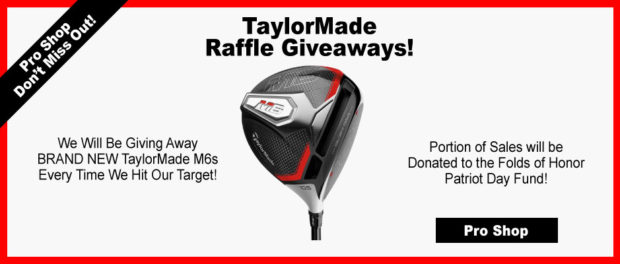 Huge TaylorMade Raffle Giveaways!
Extended! Visit the Pro Shop
Pro Shop: 410-658-4343 x2
Great Raffle Giveaways – for a Great Cause – this Labor Day Weekend – and beyond – in the Pro Shop at Chesapeake Bay Golf Club.
We will be giving away Brand New TaylorMade M6s EVERY TIME we hit our target!
Portion of proceeds will be donated to the Folds of Honor Patriot Day Fund. We will also be accepting individual donations for Patriot Day in the Pro Shop.
Raffle Tickets:
1 Ticket = $10
5 Tickets = $20
20 Tickets = $50