Free Play Week! Try Our Golf Simulators
Try our new Golf Simulators – for FREE! Call Pro Shop to reserve your time spot.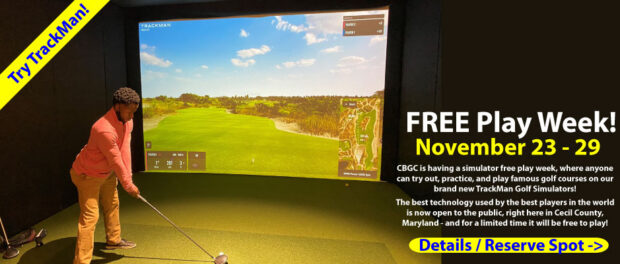 Try Our New TrackMan Simulators – for FREE!
November 23-29 at Chesapeake Bay Golf Club
Reserve Your "Try Me" Time Spot: 410-658-4343 x2
For the week of November 23rd, 2020 – November 29th, 2020 Chesapeake Bay Golf Club will be having a simulator free play week, where anyone can try out, practice, and play famous golf courses on our brand new TrackMan Golf Simulators!
The best technology used by the best players in the world is now open to the public, right here in Cecil County, Maryland – and for a limited time it will be free to play!
Please call ahead to reserve times from 8am – 5pm, bring clean clubs and clean spikeless shoes!
Opening Week Tournament
We will also be having an Opening Week Tournament at the Olde Course at St. Andrews, only a $10 entry fee.
Low individual net will win a free 2-hour rental!
Winter Golf Simulator League
Play in Chesapeake Bay Golf Club's Winter Golf Simulator League – every Monday & Thursday Night on our New TrackMan Simulators – November 30, 2020 – February 4th, 2021. When you sign up, you will check off the days and times you can play. Click Here to learn full details, sign up info, see league schedule & more!
Hurry! There are several 2-Person Team spots available – but they are filling up quickly. Sign Up deadline is November 29th.