Congrats to our 2021 Members of the Year Jeff and Denise Medlar and all of our Member Tournament and Special Awards Winners!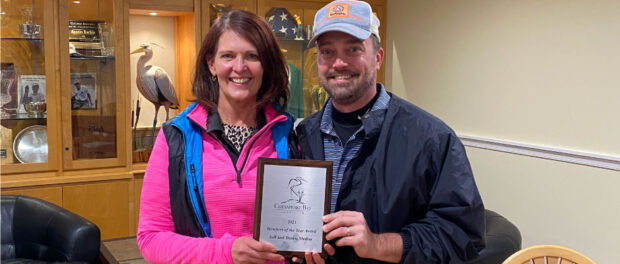 2021 Membership Special Awards Winners
The 2021 Chesapeake Bay Golf Club Membership Special Awards ceremony was held Sunday, November 7, 2021 in the Players Grille.  We'd like to congratulate, honor and thank all of the players and winners this season.
Special Recognition:
Chesapeake Bay Golf Club would like to recognize the Ladies Association President – Shelly Pinkerton and the Ladies Board for all their hard work organizing and running a flawless Association and tournament schedule this year.
We'd also like to congratulate those members who have played great golf outside of Chesapeake Bay Golf Club. We had some serious Champions this year — State, National and some cool records  broken! Chesapeake members made History. Here are some Highlights:
DSGA Results:
Played in the Delaware Amateur: Jeff Medlar, Justin Eldreth and Nikita Romanov (Finished 26th)
Nikita Romanov Won the DSGA 4 Ball Championship
Arlene and Shelly won Two DWGA team events they played in (Solheim Cup, Bash Beach)
Delaware Open – History was also made at DE Open – All 4 Barbin Boys Qualified to play in – 1st time 4 Siblings Achieved this. Also Brandon Wilson, Nikita Romanov qualified for DE Open and Andrew Jr – Made Cut.
MSGA Results:
Mike Nelles, Randy Burton, Mike Bailey, and Paul Hrabec played MSGA 4 Ball Tournament
Maryland Amateur – Austin finished 2nd in Stroke Play – 67, lost in the Quarterfinals of the MD AM
Pete Peterson and Keven Lawson – won the Maryland State Senior Mixed Doubles Championship
GAP and Pennsylvania Golf Association Results:
Philly Am – Austin 2nd in Stroke Play (73,67)- Zach and Austin made it to match Play and Zach defended his Title by losing in the Semi- Final Match (Won 10 Straight Matches)
Evan Won the Philadelphia Am qualifier and the Philadelphia Open Qualifier and made the cut in the Philly Open.
Pennsylvania Am—Austin 14th, Zach 20th
Pennsylvania Open – History again, Zach, Austin, and Evan Qualified for and made the cut in the Penn State Open – 1st time 3 siblings made the Cut – Zach finished 5th.
Collegiate Honors:
Austin was named ASUN Conference Golfer of the Week – Finishing 4th in the Maidstone Invitational
High School State Champions & Accomplishments:
So we have 2 Different State HS Champions from one Club! Very rare!
Noah Wallace won the MPSSAA 1A/2A Maryland High School State Championship! Noah is the first Cecil County golfer to win the Maryland State Championship, and he did so with a flourish – shooting a 72-73 for a 145 finish.
Evan Barbin – won the DIAA Delaware HS Boys Championship  (Barbin Boys 3 in a row) /
Evan Barbin – played in the US Junior Amateur in Pinehurst, was Top 10 in 3 State Jr Championships (DE JR – 4th, Penn JR -8th, MDJR – 10th) / Recently finished 6th -115th Mid – Atlantic Amateur at Baltimore Country Club (69,74,72)
National Champion:
Doug Phillips – We have a National Champion! Doug won the GolfWeek Amateur Tour National Championship C-Flight (200 Competitors)
Historic Year:
Arlene Zamora – Had Amazing Year – and made History!
1st to win Delaware Women's Amateur & Delaware Senior Amateur (Her 2nd) in the same year!!
Came in second in the Maryland Senior Amateur with an ace in the first round. How Awesome is That!
Tournament Winners in 2021
Regular Season Point Leader – Arlene Zamora – 1750 Pts (6th Time)
Masters Jacket – Jeff Medlar
Spring Open: Andrew Barbin Jr, Lou Najera, Chris Ritchie, Dave Psenicska
Barbin Cup – Andrew Sr Team
Spring Member – Shelly Pinkerton, Arlene Zamora
Memorial Day Mixer – Phillips / Kilgore / Kerr / Armstrong (115)
Labor Day Mixer – Andrew Jr and his team won Gross 132, and Ricky Smith, Jesse Crockett Sr and JR and Mike Nelles won Net 112
Big 4 – Arlene Zamora, Shelly Pinkerton Gross ,  Jeff Medlar and Pete Peterson  1st Net
Spring Member /Member – Gross- Earl Mitchell, Jim Weintzetl, 76 / Net- Keven Lawson and Bernie weed – 69
Red, White, Blue – Rashad Ferguson, Mike Fox Sr and Arlene Zamora
Jack & Jill – Gross (134) Shelly and Bob Pinkerton, Eric Walters, Jesse Crocket Sr / Net (116) Keven Lawson, Pete Peterson, Denis Mertz and Max King
Paul Gehring Cup – Dave Psenicska, Keven Lawson, Jim Weinzetl, Rob Reil (133)
Men's Invitational – Andrew Barbin Sr, Evan Barbin
Men's Net Champion – Larry Steward (68 -3 under)
Ladies Net Champion – Keven Lawson (69 -2 under) (2nd Time/Repeat)
Junior Club Champion – Evan Barbin (68) – 4th Win/repeat
2021 Ladies Senior Club Championship – Arlene Zamora

Gross Score 76
5th Time Overall Winner of this Championship (2012, 2013, 2019, 2020, 2021)

2021 Men's Senior Club Championship – Tom Vincenti

Total Gross Score 74
1st Time Overall Winner of this Championship

2021 Ladies Club Championship – C Flight – Linda French

Total Score   112 + 105 = 217
*1st Time Winner of this Championship

2021 Ladies Club Championship – B Flight – Bernie Weed

Total Score   88 + 89 = 177
*1st Time Winner of this Championship

2021 Ladies Club Championship – A Flight – Shelly Pinkerton

Total Score    87 + 80= 167
2nd Time Winner of this Championship ('14)

2021 Ladies Club Champion – Arlene Zamora

11th Time Overall Winner of this Championship (Most in Club History) (2003, 2004, 2005, 2008, 2009, 2010, 2012, 2017, 2019, 2020, 2021)
Total Score 78 + 74 = 152

2021 Men's Club Championship – 4th Flight – Jesse Crocket Sr

Total Score 96 – 107 = 203
*1st Time Winner of this Championship

2021 Men's Club Championship – 3rd Flight – Tom Covert

Total Score 84 – 92 = 176
*1st Time Winner of this Championship

2021 Men's Club Championship – 2nd Flight – Pete Peterson

Total score   80 – 85 = 165
*3rd  Time Winner of this Championship (1995, 2020, 2021)

2021 Men's Club Championship – 1st Flight – Roger Teel

Total score   73 – 83 = 156
*1st Time Winner of this Championship

2021 Men's Club Championship – Championship Flight – Zachary Barbin

Total Score    66-68=134
*2nd Time Winner of this Championship (2015)

2021  Harry C Barbin, Jr. President's Cup Champion – Shelly Pinkerton

This Championship places everyone against everyone
Competing against our Largest Field 45 players and Beating 6 great players / Rickey Smith, Pete Peterson, Andrew Barbin Jr, Jerry Hogue, Paul Osbourne and a very tough competitor in Evan Barbin in Final match, went 2 up on 17 in Final Round.
Also 4th Woman to Win the Presidents Cup
*1st Time Winner of this Championship
Special Awards Winners
2021 Dick Civita's "Sandbagger of the Year" Award —  Jesse Crockett Sr.

1st Time Winner  / Wins Award Plaque
3rd Net Spring Member-Member, 3rd Net Spring Open, 2nd Place Paul Gehring Cup, 1st Net Red White Blue, 1st Place Net Labor Day Mixer, 1st Gross 3 Jacks & A Jill, 1st Place D Flight Club Championship, and generally takes pride in being a sandbagger and won way too much money in simulator league 🙂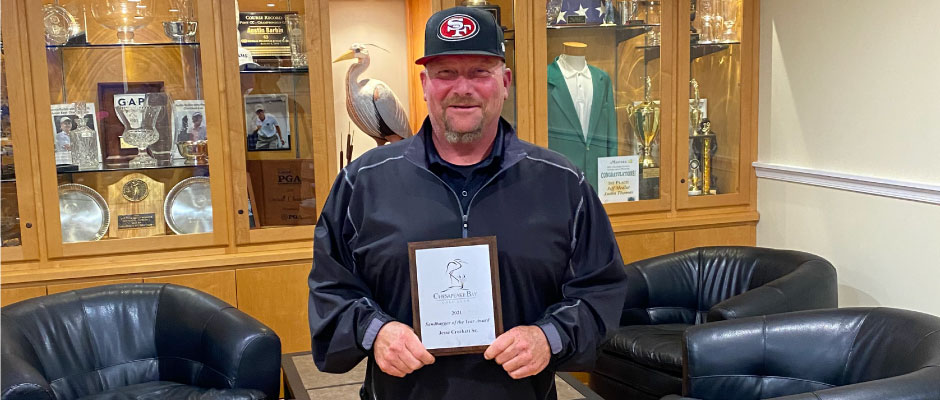 Most Improved Players
Award Criteria: Must Have minimum of 25 Rounds Entered in the HDCP Computer

2021 Ladies' Most Improved – Shelly Pinkerton

Her 2nd time (1999, 2021)
13.5 Index to 10.1 = 3.4 USGA Index Points Dropped
Her Beginning Handicap Index on April 1st was 13.5.  Her ending Handicap Index on November 1st was 10.1. An improvement of 3.4
*2nd Time / Wins Award Plaque

2021 Men's Most Improved – Doug Phillips

Beginning Handicap Index on April 1st was 13.1 Index.  His ending Handicap Index on November 1 was 7.4.  An improvement of 5.7
(13.1 to 7.4) 5.7  USGA Index Points Dropped
*1st Time  / Wins Award Plaque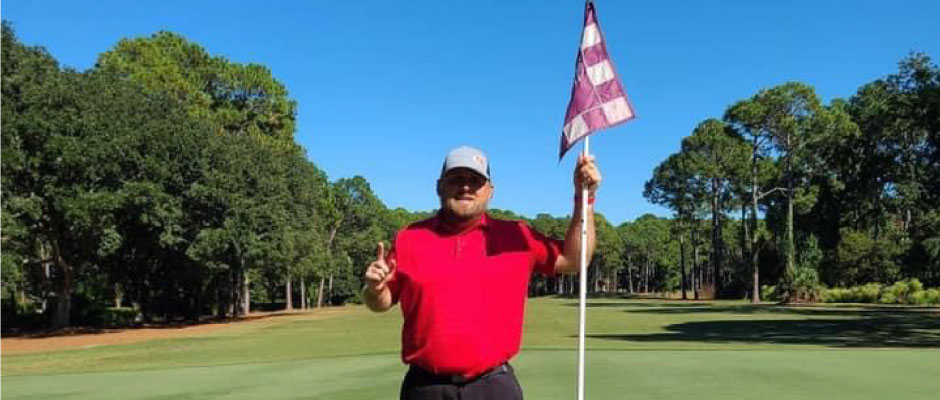 2021 Glenn Slonecker "Members of the Year" – Jeff and Denise Medlar

Jeff and Denise have been Ambassadors for the club
They have a great relationship with all of our staff
They participate in every run event by the Club
Denise also got involved in Ladies Association
We are privileged to know them and appreciate them so much!
*Wins Award Plaque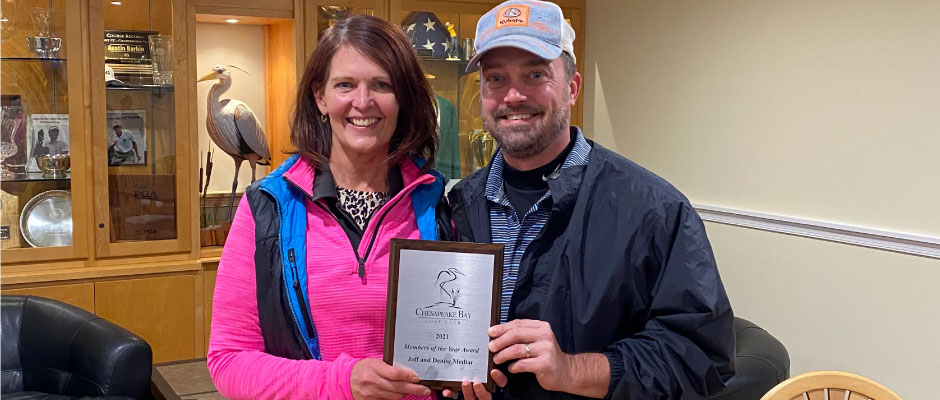 2021 Tournament of Champions Cup Winner – Shelly Pinkerton

was in 2nd place start of Tournament
Finished 1st  in the Season long "Player of Year" Points race with 4,750 pts
Total Score (Shot 81 Gross with winning Net Score of 75)
*Wins Champions Cup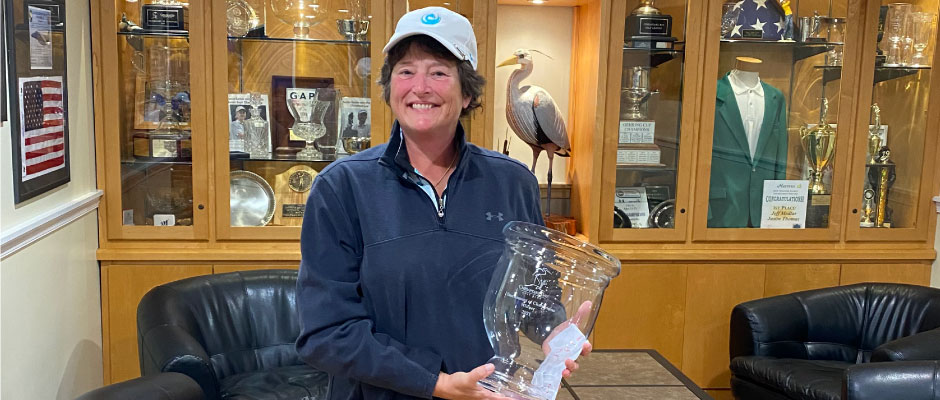 2021 Player of the Year – Shelly Pinkerton

Total Points won in regular season with 2,250 pts was 2nd place
1st in the overall Player of Year Points Race with 4,750 pts
*Wins Crystal Vase / $250 towards 2022 Membership