Play in our Men's Invitational! Great time all weekend long.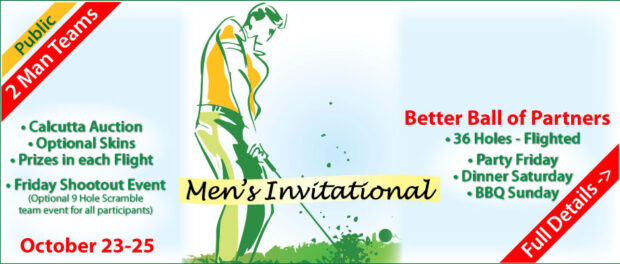 2020 Men's Golf Invitational
October 23-25, 2020
Better Ball of Partners | 36 Holes – Flighted
Calcutta Auction | Skins & Prizes
Early Entry Deadline: October 15
Call Pro Shop 410-658-4343 x2  |  Print Invitational Entry Flier  |  Sign Up Online
Join us for Chesapeake Bay Golf Club's Men's Invitational Friday-Sunday, October 23-25 for a weekend full of great golf, BIG prizes, tasty food, and a great time!
Eligibility
Entries limited to the first 50 Teams
Entrants limited to male contestants
Open to the Public
Tournament Format
2 Man Teams
36 Hole Better-Ball of partners
NO CUT
All Players will play from the White Tees
All Teams Flighted by their 18 Hole Score
2 Rounds of Golf – Saturday & Sunday
$60 of Team Entry back in Team Prizes
Optional Skins – $100 per Team
Team Skins – $50 toward Saturday round and $50 applied for Sunday In- flight only skins
2nd Day Wager – Optional – $50 per Team per flight
Flights
Flights based on number of registered teams.
In Event of a Tie: Sudden Death playoff will decide 1st Place for each flight, all other places will be decided by USGA tie-breaking method.
Top 3 places win prizes in each Flight.
A minimum of 3 prizes will be awarded within each flight based on the number of participating teams in the tournament.
Flights will be determined after the conclusion of the first round.
The number of teams in each flight will be determined by the professional staff.
The Goal is to keep each flight competitive within the flight – that the first and last team in each flight is within 5 strokes or less if possible.
Flights will be based on number of participating teams and the goal is to have at least 5 teams per flight.
Sign Up Online / Entries
Sign Up

: Print: Invitational Entry Form Flier – or Sign Up Online Below
Entry Fee of $320 per team – Early Sign Up prior to October 15th.  $340 per team after October 15.
Cancellations within 72 hours of tournament are non-refundable.
Additional entries may be printed off our website and tee times for Saturday and Sunday rounds will be posted on our website the week of the tournament.
Note: Online Sign Up Entries powered by Victory Golf Management and will be reflected on your receipt.
Scroll down to Read "Tournament Terms & Conditions".
Tee Times
Saturday tee times will begin at 11am, and Sunday pairings will be based on flights with a shotgun or split tee depending on number of Teams.
Note: Times may get changed based on participation.
Friday Shootout – Optional Event
Optional 9 Hole Shootout (2 Man Scramble) event on Friday at 3pm is for all participants.
Entry: $50 per player. Reservations must be made. Call 410-658-4343 ext. 2 to enter.
Event will be followed up with:

Happy Hour (Cash Bar) at 6:30pm
Calcutta Auction Party at 7:30pm
Program for Weekend
Meals Listed Below are Included in Entry Fee. Guests of participants will need to be paid in advance with entry fee.
Friday, October 23, 2020
9 Hole Shootout (2 Man Scramble): 3pm

(Optional Event)
Golf Fee $50 per player
Call Pro Shop 410-658-4343 x2 to Enter

Happy Hour (Cash Bar):  6:30pm-9pm
Calcutta Auction Party: 7:30pm
Saturday, October 24, 2020
Tee Times Start: 11am
Dinner:  6pm – "Taste of Italy"
Team Flights Posting: 6:30pm
Sunday, October 25, 2020
Tee Times: 8am
Lunch: 1:00 pm "Pit BBQ"

Pulled Pork, BBQ Chicken, Salads

Awards Presentation: 1:30pm
*
Terms & Conditions

*

The CHESAPEAKE BAY GOLF CLUB Professional Staff and Tournament Committee reserves the right to alter conditions and schedules.  The decision of the Professional Staff and tournament committee in any matter shall be final.  The right to reject any entry is also reserved, and entry fee will be refunded.

Note: The Event will be played Rain or Shine.

If Weather Conditions reduces the event to a minimum of 18 Holes – the event will be considered completed. The teams will be flighted by their Saturday 18 Hole Score. The Prizes will be awarded based on an 18 hole score due to poor weather. If less than a total of 18 holes has been completed over the 2 days – each team who did not complete an 18 hole official score will receive a team refund of $100 + any optional Skin money paid.
Food & Beverage
All beverages consumed on the course must be purchased or supplied by CBGC in accordance with our state liquor license. Alcohol May Not be brought onto property.
Bloody Mary's, Orange Crushes, and Jello Shots will be available.
Beverage Cart on the Course
Professional Staff reserves right to inspect bags and all violators will forfeit entry fee and be asked to leave property.