Click to View Current President's Cup Bracket as of August 26, 2019.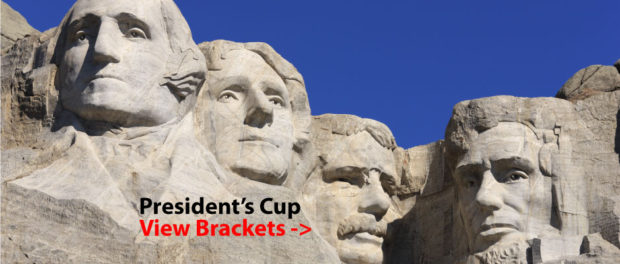 2019 Harry C. Barbin, Sr. President's Cup
6 Round Golf Match Play "Major"
Contact Pro Shop 410-658-4343 x2
Dates Matches Completed By |  2019 President's Cup Bracket (As of August 26, 2019)
The President's Cup ~ A Golf Match Play "Major" Event for Chesapeake Bay Golf Club Members, Season Ticket and Chantilly Card Holders, and Association Members.
Major events earn maximum points toward the Player of Year Points List. Please scroll down to see all "completed by" dates for each round of match play.
Details
Open to All Members – Men & Women
Season Ticket, Chantilly Card Holders, Association Members
For All Levels of Play
100% Handicap
A Blind Draw Party for all participants – Saturday, April 20, 2019 at 4:00 pm
Everyone vs Everyone
Play your Match when you want!
$25 Entry Fee
Sign up in the Pro Shop or Online
Rules of Play
All participants will play
Saturday April 20th: A Blind Draw of all entered participants will be done to seed players
Past Champion automatically #1 seed / First seed goes to Defending 2018 Champion Jack Falkenstein
Handicap:
100% Handicap Championship / Everyone vs. Everyone
Whatever your posted USGA Handicap is at start of each match will be the handicap for that match

Handicap Subtraction

: The two competitor's handicaps will be deducted from each other prior to play. The Player with the most strokes will receive the deducted Handicap and applied to the hardest holes. The Lower Handicap Competitor will not receive any strokes on any holes for the Match.
The Higher Handicap player will receive handicap strokes where they are ranked on scorecard (men's handicap strokes fall on men's handicap holes and women's handicap strokes fall on women's handicap holes).
Player is responsible for notifying club if they have an established handicap at another facility. If CBGC is not notified, the player will be disqualified. The player must use the lowest handicap index they have no matter what club they belong to.
Each Competitor's Handicap will be adjusted according to the Tee they will be playing from during the Match
Rules: Golf Match Play
6 Round Match Play Event
Each match play round must be played by scheduled deadline date for round.
If players cannot agree to make a date to play, then the deadline date at 12pm becomes the scheduled play date and time.  If both players do not make it to the tee at the scheduled date and time (12pm), they both will be disqualified with no refunds.
See Tournament schedule for Match Play deadline dates for each round.
Ties after an 18 hole match will play sudden death starting at the 1st hole, Handicap Strokes will apply during sudden death playoff.
USGA rules for Match Play in effect for Matches.
Men Play from White tees unless they normally play from a different tee, Women from Red Tees.
Note: Handicap index will adjust according to the tee box you're playing from. A player may move back to a different set of tees. Once the player determines the set of tees they must play from the designated tee the entire tournament and shall not move.
The Player must inform the Proshop the desired tees prior to the match being played.
Eligibility:
Open to All Members – Men & Women
Must maintain a current 2019 membership at Chesapeake Bay Golf Club

Season Ticket Holder / Chantilly Card / Association Member

Players must have an established USGA Handicap to compete
Entry Fee:
$25 (Breakdown: $5 to Year End Prizes / $15 for President's Cup Prizes / $5 to Draw Party)
Dates Matches Completed By

:
1st Round – completed by May 27
2nd Round – completed by June 17
3rd Round – completed by July 8
4th Round – completed by July 29
5th Round – completed by August 19
6th Round – completed by September 16
Course Charges: Normal Fees apply. (Note: Cart fees and regular fees will apply each round)
Carts: Mandatory. (Note: Player may walk but must pay for cart fee)
Prizes: Major Event Points / Gift Certificates
1st Place – 50% of Prize Pool – Wooden Plaque (May Choose to take Prize in a Gift Certificate)
2nd Place – 25% of Prize Pool
3rd Place – 15% of Prize Pool
4th Place – 10% of Prize Pool