2019 Club Championship
August 3 & 4
Who will be crowned this year's champs?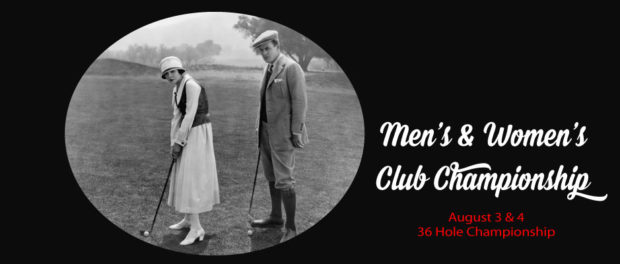 Chesapeake Bay Golf Club
Men's & Women's Club Championship
Each year, Chesapeake Bay Golf Club's best member golfers tee it up to claim supremacy. Our Men's & Women's Club Championship is a two day, 36-Hole Stroke Play (in Flights) Event Saturday & Sunday, August 3-4, 2019. Sign up today!
Sign Up: Call Pro Shop 410-658-4343 x2  |  Sign Up Online
Eligibility:
Open to ALL Members of Chesapeake Bay Golf Club
Season Ticket Holders
Chantilly Card members
Ladies Association Members
Club Championship Brackets by Handicap:
Men's:

Championship Flight 0-6 hdcp
A Flight 7-13 hdcp
B Flight 14-19
C Flight 20-26
D Flight 27 & up

Women's:

Championship Flight  0-10 hdcp
A Flight 11-17 hdcp
B Flight 18-23
C Flight  24-29
D Flight 30 & up

Brackets will be formed based on handicap.
Each bracket to be within 6-7 strokes, if possible.
Due to participation changes may be made.
Must have a USGA handicap established to participate.
Dates / Times:
August 3 ~ 11 am Tee Times
August 4 ~ 11 am Tee Times
Format:
Stroke play in flight.  All players will play without handicap.
Handicap Index:
Flights off the Handicap index of normal tee box & based on course slope rating.
Entry Fee: $25
Course Rules:
Championship – Play Black Tees
A and B Flight – Men play White Tees
C & D Flights – Men play from Green Tees
All Ladies play from Front Tees
Course Charges:
Normal Rates apply.  Optional Skins Game.
Prizes:
Parking Spot (Champion)
Gift Cards for all flights