Pumpkin Chocolate Chip Muffins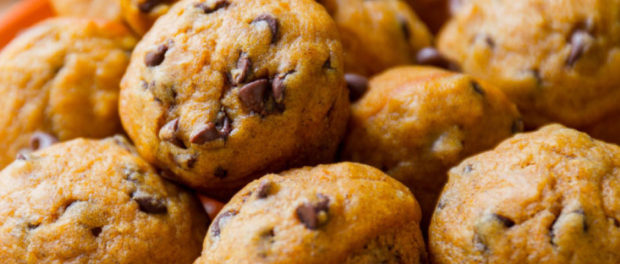 It's Autumn! The leaves are just starting to turn color. It's also the perfect season to sample a new pumpkin recipe.
There's something absolutely delicious about the combination of pumpkin and chocolate. Enjoy these moist and decadent muffins warm from the oven, chilled, or at room temperature. For an even richer depth of flavor, substitute a good quality Bittersweet Chocolate Chip (60% Cacao) in place of the semi-sweet.
Pumpkin Chocolate Chip Muffins Recipe
4 Eggs
2 Cups Sugar
1 Can solid pack Pumpkin (15 oz)
1 tsp Vanilla
1 1/4 Cups Vegetable Oil
3 Cups Flour
2 tsp Baking Soda
2 tsp Baking Powder
2 tsp Cinnamon
1 tsp Salt
2 Cups Semi-Sweet Chocolate Chips (12 oz bag)
Directions
Preheat oven to 400° F. Grease 2 Muffin Tins – or – put in Paper Lined Cups.
In mixer, beat Eggs, Sugar, Pumpkin, Vanilla, and Oil until smooth.
In a separate bowl, combine dry ingredients. Whisk to combine.
Gradually add Dry Ingredients to Egg Mixture and mix well.
Fold in Chocolate Chips.
Fill muffin tin cups 3/4 full.
Bake at 400 degrees for 16-20 minutes.
Cool in pan 10 minutes. Remove to wire rack to cool completely.
Makes approximately 2 dozen.
Enjoy! These freeze well. Once cooled, place in plastic zipper bag. They thaw quickly on counter – or you may defrost for 10 seconds on high in microwave.
---
Wrap 'Em Up
Handcrafted items always make a great gift! Consider making up a batch of these to give to:
Teachers – thank you
Pastor/Minister – October is Pastor Appreciation Month
Sports – kids love these after practice / game
Hostess Gift – don't walk into a party empty-handed
Neighbor / Someone in Need