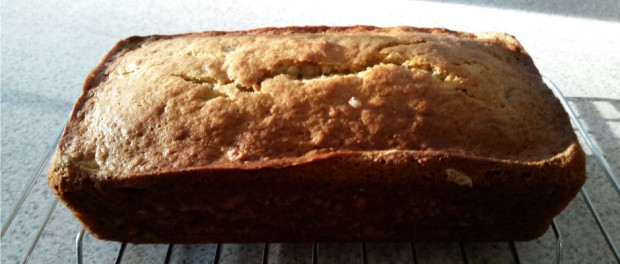 Fill your home this Autumn with the comforting, sumptuous aroma of a homemade Banana Bread! This is a recipe that is so easy to make with ingredients you most likely already have on hand. Bon appétit!
Banana Bread
1 2/3 Cups Flour
2 tsp Baking Powder
1/2 tsp Salt
1/4 tsp Soda
3 Medium Ripe Bananas, mashed
2/3 Cup Sugar
1/3 Cup Vegetable Oil
2 Eggs
1 1/2 tsp Vanilla
Preheat oven to 350°.  Grease well a metal loaf pan with butter.
Combine Flour, Baking Powder, Salt & Soda.
In another bowl, smash bananas with a fork. Add sugar, oil, eggs and vanilla and beat until combined. Add to flour mixture. Stir just until blended.
Spread in well greased loaf pan. Bake for approximately 45 minutes or until toothpick test comes out with a few crumbs. Cool in pan for about 15 minutes, then transfer to a wire rack to cool.
Serving Suggestions:
This Banana Bread can be served in a variety of delicious ways:
Serve Warm from the Oven
Serve at Room Temperature ~ add a dusting of confectioners sugar
Toast and spread with butter
Refrigerate and served chilled
---
Recipe Source: Williams-Sonoma