Club Championship Results
Aug 2 - North East Course, Aug 3 - Rising Sun Course
Austin Barbin shoots 76, 73 to take 1st Place and be crowned the 2014 Chesapeake Bay Golf Club Men's Club Champion. Austin is the youngest CBGC Club Champion to date at Age 13.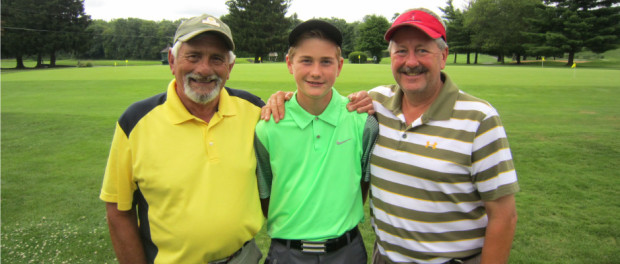 CBGC Men's & Ladies Club Championship
Golf Results
In the "A" Flight, Jim French wins first, and Dave Whitlock is this year's "B" Flight champ. Suki Kegley is the 2014 Chesapeake Bay Golf Club Ladies Club Champion, and Shelly Pinkerton takes the Ladies "A" Flight. Congratulations to all of this year's winners!
Highlights in Each Division:
Ladies
In A Flight, Shelly Pinkerton climbed back into championship with a stellar 43 to get within 1 of Susan Eichler. Shelly's back 9 with another 43 was too much to handle for rest of field giving her the victory.  In Championship Flight, Tammie Vincenti picked up a shot on Suki Kegley at the turn, but Suki put the pedal to the metal to claim another club championship.
Men's A Flight
Jim French has a 1 shot lead at start of day on Bob Ranson, however Bob injured himself on back 9 and had to withdraw. Carlos Coleman fired a solid 38 on front 9 to get within 4 shots of Jim – however that wasn't enough. Jim clamped down and finished off championship with a solid back 9 – 41 for a 2 day total 163 to win by 6 shots.
Men's B Flight
Dave Whitlock continued his great play with a solid performance and a great score of 81. Jack Falkenstein closed with a nice 41 but wasn't good enough. The Men's Net Champion Dave Archibald fought hard but it was Dave Whitlock's Championship.
Men's Championship Flight
Wow – what a battle today in the Championship Flight. The 1st round leader, Zach Barbin was hot – 4 under through 6 holes and made the turn 1 under with a 34. Scott Schnell was steady with a score of 36. Earl Mitchell fired a 36 to stay in the mix. Austin and Andrew Barbin struggled with 40 and 41 at the turn.
Then the championship took a turn on Hole #14 par 5 when Austin made his 2nd birdie on back 9 and Zach's 3 putt 7 made it interesting. With 4 holes left it was a 2 player race. Both Austin and Zach missed birdie from 8′ on #15. At #16 with back pin both players were within 20′ and Austin was able to make his 3rd birdie on back to get within 1 stroke. On 17th hole Zach made bogey on a difficult front pin and Austin drained a 30 footer to take a 1 shot lead into final hole. Both players played #18 solid driving the ball 275 yards. Zach and Austin layed up on the par 5 setting up a shortgame showdown. Zach put his approach shot to 12′ and Austin staked it to 6′. Zach needed to make putt and ball sat on the lip. Austin finished with a 4 under back 9 score of 32 which gave him the championship. Zach Barbin had low round at North East Day 1 with a 75 and Earl Mitchell had low round at Rising Sun Day 2 with a 72.
Men's Championship Flight
| | | | | | |
| --- | --- | --- | --- | --- | --- |
| First Name | Last Name | Day 1 NE | Day 2 RS | Total | Place |
| Austin | Barbin | 76 | 73 | 149 | 1st |
| Zach | Barbin | 75 | 75 | 150 | 2nd |
| Earl | Mitchell | 83 | 72 | 155 | 3rd |
| Scott | Schnell | 81 | 77 | 158 | T4th |
| Andrew | Barbin | 77 | 81 | 158 | T4th |
| Christian | Guss | 82 | 82 | 164 | 5th |
| Tom | Vincenti | 90 | 82 | 172 | 6th |
Men's "A" Flight
| | | | | | |
| --- | --- | --- | --- | --- | --- |
| Jim | French | 80 | 83 | 163 | 1st |
| Carlos | Coleman | 88 | 81 | 169 | 2nd |
| Gary | Rohrbaugh | 86 | 89 | 175 | 3rd |
| John | Baynes | 100 | 84 | 184 | T4th |
| John | Webb | 91 | 93 | 184 | T4th |
Men's "B" Flight
| | | | | | |
| --- | --- | --- | --- | --- | --- |
| Dave | Whitlock | 88 | 81 | 169 | 1st |
| Jack | Falkenstein | 95 | 87 | 182 | 2nd |
| Dave | Archibald | 98 | 94 | 192 | 3rd |
| Frank | Cortazzo | 119 | 103 | 222 | 4th |
Ladies Championship Flight
| | | | | | |
| --- | --- | --- | --- | --- | --- |
| Suki | Kegley | 81 | 82 | 163 | 1st |
| Tammie | Vincenti | 88 | 85 | 173 | 2nd |
Ladies "A" Flight
| | | | | | |
| --- | --- | --- | --- | --- | --- |
| Shelly | Pinkerton | 88 | 86 | 174 | 1st |
| Susan | Eichler | 83 | 95 | 178 | 2nd |
| Wendy | Webb | 95 | 98 | 193 | 3rd |