2022 Junior Club Championship
Junior Golf Event Open to Public! Boys and Girls Age 6-18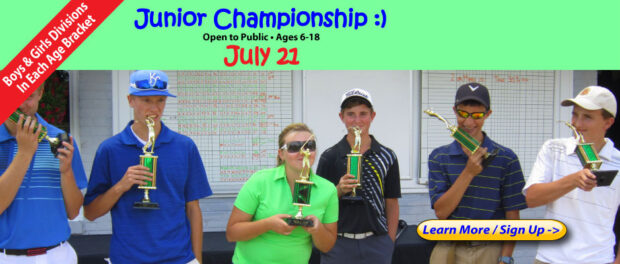 Chesapeake Bay Golf Club's
2022 Junior Club Championship!
Thursday, July 21, 2022
Open to the Public – Kids Age 6-18
Sign Up: Call Pro Shop 410-658-4343 x2  |  Sign Up Online
Inviting all junior golfers aged 6-18 to play in Chesapeake Bay Golf Club's Junior Club Championship on Thursday, July 21, 2022!
This Junior Golf Event is Open to the Public! There will be Boys and Girls Divisions in each Age Bracket. Prizes will be awarded after play.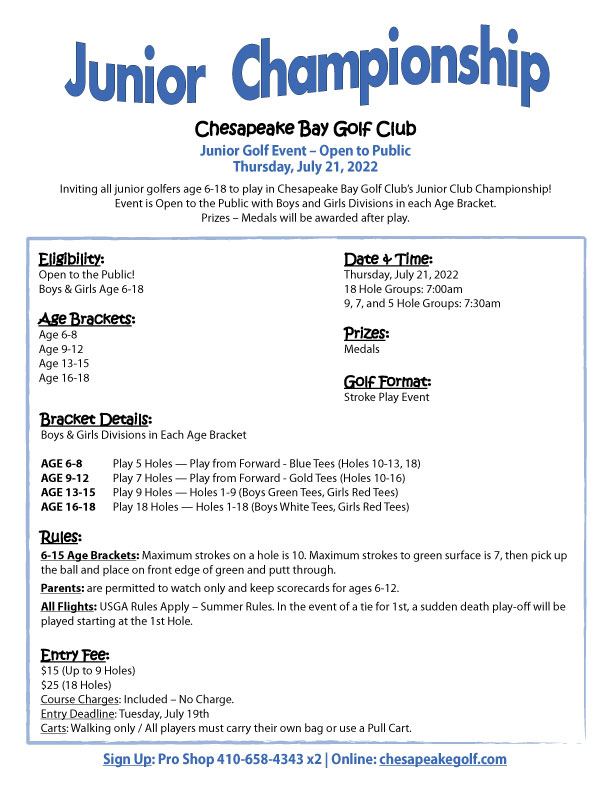 Date & Time:
Thursday, July 21, 2022
18 Hole Groups: 7:00 am Starting Tee Times off Hole #1.
9, 7, and 5 Hole Groups: 7:30 am Tee Times on the back 9.
Golf Format:
Junior Club Championship is a Stroke Play Event
Eligibility:
Boys & Girls Age 6-18
Open to Public
Age Brackets:
Age 6-8
Age 9-12
Age 13-15
Age 16-18
Bracket Details:
AGE 6-8: Play 5 Holes — Play from Forward – Blue Tees (Holes 10-13, 18)
AGE 9-12: Play 7 Holes — Play from Forward – Gold Tees (Holes 10-16)
AGE 13-15: Play 9 Holes ~ 1-9 (Boys Green Tees, Girls Red Tees)
AGE 16-18: Play 18 Holes ~ 1-18 (Boys White Tees, Girls Red Tees)
Rules:
6-15 Age Brackets: Maximum strokes on a hole is 10. Maximum strokes to green surface is 7, then pick up the ball and place on front edge of green and putt through.
Parents: are permitted to watch only and keep scorecards for ages 6-12.
All Flights: USGA Rules Apply – Summer Rules. In the event of a tie for 1st, a sudden death play-off will be played starting at the 1st Hole.
Entry Fee:
$15 (9, 7, 5 Holes) / $25 (18 Holes)
Entry Deadline: Please sign up by Tuesday, July 19th
Carts: Walking only / All players must carry their own bag or use a Pull cart
Prizes: Medals