2021 Spring Member-Member Results
Sunday, March 28, 2021
Low Gross Winners: Team Zamora / Pinkerton 76. Low Net Winners: Team Thompson / Eldreth 72. Congrats!!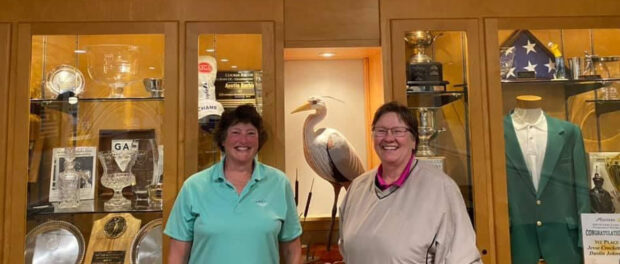 Golf Results for Chesapeake Bay Golf Club's
2021 Spring Member-Member
Congratulations to our 2021 Spring Member-Member Winners Arlene Zamora and Shelly Pinkerton, who finished at +1 over the three 6 hole formats of better ball, alternate shot, and scramble!
Mark Thompson and Justin Eldreth also finished low net to round out our winners circle!
Chesapeake Bay Golf Club's Spring Member-Member Tournament was held on Sunday, March 28, 2021. Format was a 2 Person Team Event – with a split format that included Select Drive/Alternate Shot, Scramble, and Best Ball.
Team Net and Gross Prizes were awarded.
Low Gross
NAME
GROSS
1ST GROSS
Arlene Zamora
76
Shelly Pinkerton
Low Net
NAME
NET
1ST NET
Mark Thompson
72
Justin Eldreth
2ND NET
Bernie Weed
74*
Jim Weinztel
3RD NET
Doug Phillips
74*
Brian Kilgore
*Match of Cards
Full Results
NAME
GROSS
NET
1
Arlene Zamora
76
71
Shelly Pinkerton
1
Mark Thompson
77
72
Justin Eldreth
2
Bernie Weed
82
74*
Jim Weinztel
3
Doug Phillips
83
74*
Brian Kilgore
4
Pete Petersen
80
74*
Paul Hrabec
5
Keven Lawson
93
75
Denise Medlar
6
Ken Capolongo
90
75
Rob Reil
7
Rick Speed
88
75
Craig Whiteford
8
Mike Nelles
89
76
Jeremy Pierce
9
Rickey Smith
82
76
Jesse Crockett
*Match of Cards