Join us for a festive day of fun and feasting!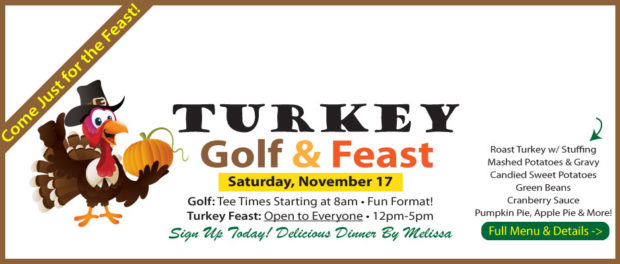 Turkey Golf & Feast!
November 17 at Chesapeake Bay Golf Club
Sign Up 410-658-4343 x2 | Turkey Golf & Feast Flier
Open to Everyone –

Come Just For the Feast

!
Chesapeake Bay Golf Club welcomes you to join us on Saturday, November 17, 2018 for a day of fun and feasting!
Come just for Melissa's delicious Turkey Feast that will be served from 12pm-5pm in the Players Grille, or enjoy a great round of Golf before starting at 8am with a fun 2 person team split format. Everyone is welcome. Kick off the holiday season with a festive day of food & fellowship. Invite your friends and spread the word!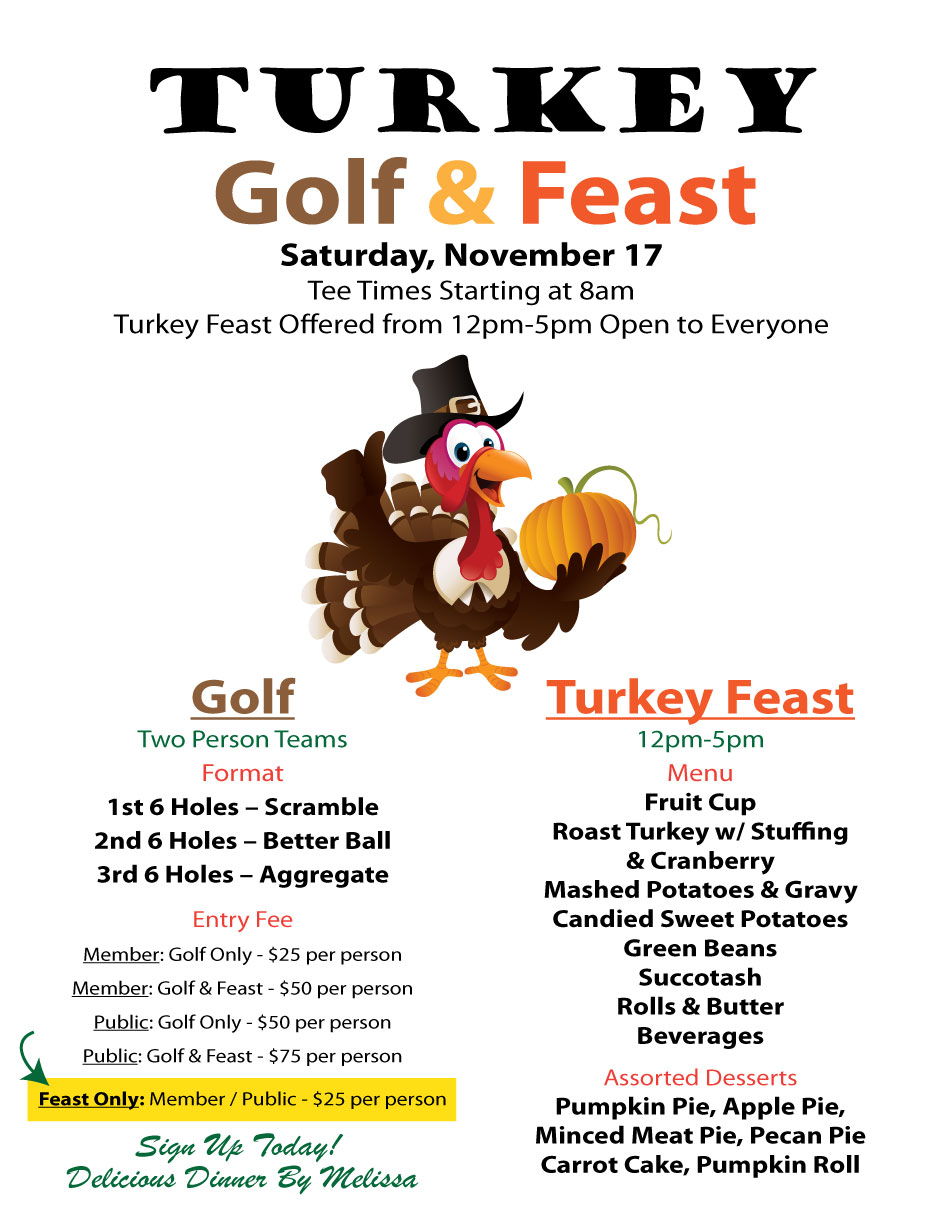 Turkey Feast ~ Menu
Served from 12pm-5pm
Fruit Cup
Roast Turkey w/ Stuffing & Cranberry
Mashed Potatoes & Gravy
Candied Sweet Potatoes
Green Beans
Succotash
Rolls & Butter
Beverages

Assorted Homemade Desserts

: Pumpkin Pie, Apple Pie, Minced Meat Pie, Pecan Pie Carrot Cake, Pumpkin Roll
Feast Only: Member / Public – $25 per person
Golf
Great day of golf with a fun two person team format with a split format.
Starting Time:
Tee Times Starting at 8:00 AM
Format:
1st 6 Holes – Scramble
2nd 6 Holes – Better Ball
3rd 6 Holes – Aggregate
The Aggregate Score, especially on the last 6 holes can really change the outcome of the event.
Entry Fee
Member:

Golf Only – $25 per person
Golf & Feast – $50 per person

Public:

Golf Only – $50 per person
Golf & Feast – $75 per person