North East Spotlight: Hole #8
Spotlight on Chesapeake Bay Golf Club's signature Hole #8 – a drivable par 4 that is reachable for most of the general public with birdie or eagle in reach.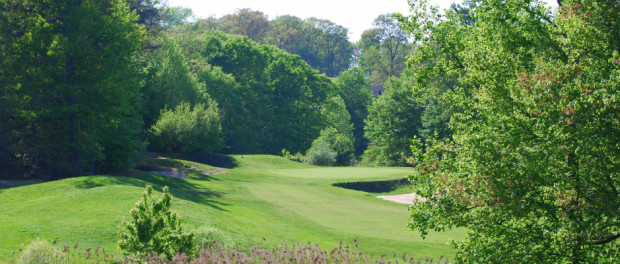 BY ANDREW BARBIN, JR.
A Drivable Par 4
As a long ball hitter, nothing gets my blood pumping like a drivable par 4.  The feeling of putting an entire round on one swing is the kind of thrill I live for.  In my career I have gone for many greens, some worked out, and some did not.  Sometimes, in order to win, in any sport, you have to be willing to take those risks.  Sometimes, going for the single and hoping the guys batting behind you drive you in works, but going for the homerun can assure victory.  Golf is the same way.  You could play patient and layup, hoping your next few holes will go alright, or you could go for the hero shot, providing insurance for a future mess up, or be one or two shots closer to victory.
However, most golfers can't hit the ball over 300 yards and drive the holes the longer players can hit.  But our signature hole, #8 at North East gives the average golfer a huge opportunity to go for glory.  From the Green Tees (2nd from back), it is only about 260 yards to the middle of the green, with about a 245 yard carry to the front.  From the White Tees (2nd from front), it is about 250 to the middle, and a 235 carry to the front.  What makes this a great hole is that it is reachable for most of the general public.
But should you go for it?  After all, it's an elevated green surrounded by bunkers and trees down both sides.  The answer is yes.  Even for long hitters like me, holes like #8 are hard to come by.  And for the average golfer who gets even fewer opportunities like this, this is a rare chance at eagle you can't miss out on.  Also, it won't kill your score if you do mess up, as the whole right side is a hazard, meaning you have the option to drop where it crossed or drop it by the drop zone, which is only about 60 yards from the green, approximately where the ideal layup spot would be if you chose to layup, with the penalty only being one stroke.  Hole #8 also has a HUGE green, and you have approximately 30 yards to work with.  For longtime players at the North East Course, you will notice that the waste bunker that used to run down the right side of the hole was removed and is now sodded with a Bermuda-Bent grass hybrid, so missing the green short or a little right won't punish you as bad as it used to in the past.
So, it's much less high risk – high reward than you think, being more like a little bit of risk – high reward scenario.  I'm a firm believer in playing to make memories, and there is nothing more memorable than driving the green and making an eagle or 2-putt birdie.  If you are playing in a tournament here, it can really make a difference in your score or give you a big advantage over your opponent in match play.  So, go ahead, grip it and rip it.  You have little to lose, everything to gain!
---
Tee Time North East | Contact Pro Shop 410-287-0200 x3