New Golf Membership Options
Enjoy Savings, Member Benefits & Tournaments, plus Bonus Offers!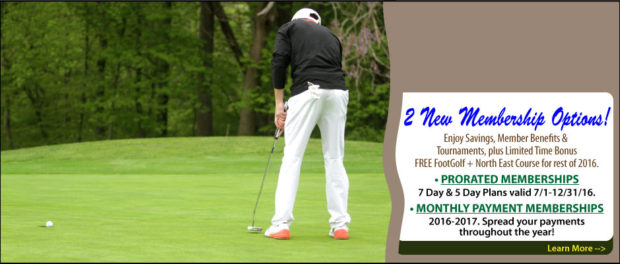 2 New Membership Options!
Enjoying the Benefits of Golf Membership at Chesapeake Bay Golf Club just got easier! We are pleased to announce 2 new Membership Options – our 2016 Prorated Memberships valid from July 1-December 31, 2016, and our new 2016-2017 Monthly Payment Memberships.
Prorated Memberships | Monthly Payment Memberships | Sales Staff 410-287-0200 x8
Bonus Offers!
Each of our new Membership Options comes with two Limited Time Bonus Offers:
FREE FootGolf for the rest of 2016
Play North East Course for the rest of 2016
See Prorated Memberships and Monthly Memberships below for additional offers for each.
2016 Prorated Memberships 7/1-12/31/16
Cart is Included in Prorated Golf Membership Plans. Join today & start playing!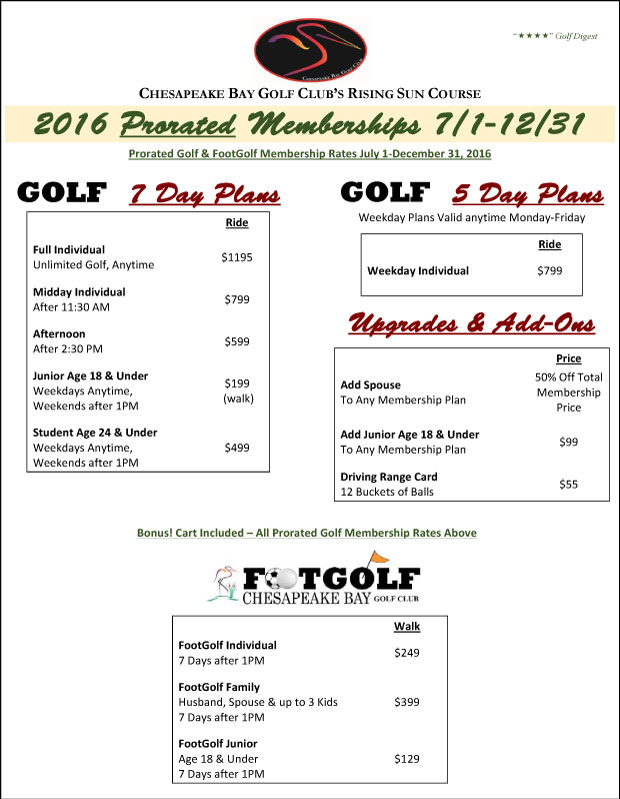 Prorated Golf Membership Benefits
Join Now & Start Playing!
Memberships valid until 12/31/16
Preferred Tee Times for Members 14 Days in advance
Bonus! Get FREE FootGolf for rest of 2016
Bonus! Play North East Course for rest of 2016
USGA Handicap
Club Membership in the MSGA and the DSGA
Preferred Guest Rates
Pro Shop Merchandise – 15% Off Special Member Pricing
Beer – Special Member Pricing
Catering / Banquets – Members Get 15% Off
Offered Member Tournaments, Clinics and Special Events. All Members are eligible for Tournament Play.  CBGC offers a competitive and fun selection of tournaments – offering everyone a chance to win with both Net and Gross Prizes throughout the year with Website and Facebook recognition.
Note: a $40 Greens Fee rate will apply for "Midday" or "Afternoon" Members and "Weekday" or "Senior" Members when playing in early scheduled / weekend tournaments.
"Member Minute" E-Newsletter
A Certificate for $10 Off the 2016 Victory Golf Pass book
Memberships are Non-Refundable
Prorated Membership Special Offers:
Special #1 – Heroes
Receive $75 in Credit
To Honor Our US Military (Active & Veterans), Police & Firefighters. Please show Identification.
Special #2 – New Foursome Membership Deal
Each Player will Receive a $50 Gift Card
Join as a New Foursome in 2016 and Each Player Receives a CBGC $50 Gift Card.
Special #3 – Refer a Friend
You will Receive a $50 Gift Card
Bring in a New Member and You will Receive a $50 CBGC Gift Card.
Please Note: A "Special Offer" cannot be combined with another special offer.
Credit / Gift Cards may be used toward Golf, Food & Beverage in the Players Grille or Pro Shop in 2016.
---
2016-2017 Monthly Payment Memberships
Looking for the flexibility of a Monthly Payment Golf Membership? Introducing our 7 Day and 5 Day Monthly Payment Membership Plans. 7 Day Individual, Family, Midday, Young Professional, Junior Age 18 & Under (walking), Senior 60+ or our 5 Day Individual. The perfect options for avid golfers and fans of Chesapeake Bay Golf Club!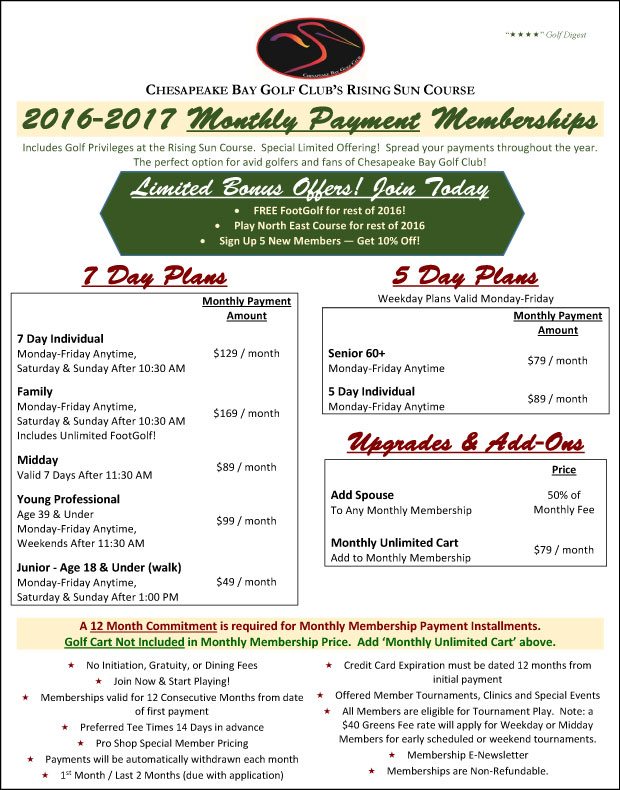 Monthly Payment Details & Additional Special Offer:
A 12 Month Commitment is required for Monthly Membership Payment Installments.
Note that Golf Cart is not included in the pricing. Add "Monthly Unlimited Cart" to Upgrade.
Payments will be automatically withdrawn each month.
Memberships valid for 12 consecutive months from date of 1st payment.
1st Month / Last 2 Months (due with application).
Special Offer! Sign Up 5 New Members – Get 10% Off!