FootGolf Soccer Team Specials
Fun End of Soccer Season Parties
Attention Soccer Teams + Coaches! Have a FootGolf End of Season Party – Your Team Will LOVE This!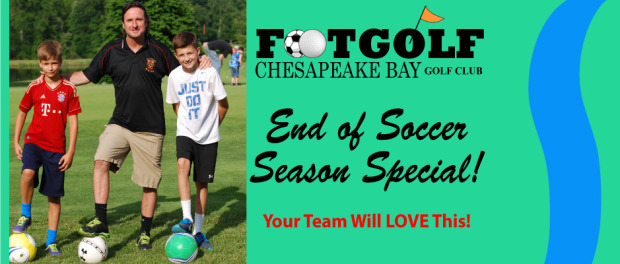 Attention Soccer Fans, Teams, and Coaches. FootGolf is a fun way to celebrate soccer any time of the year! For your end of soccer season party, consider a fun round of FootGolf! Team pricing and Food Options are available. Anyone can play! FootGolf follows the basic rules of golf but without clubs, just a soccer ball! Try to kick the ball into the hole in the fewest kicks possible. Try to make par – 3 kicks, 4 kicks, 5 kicks! A great way to hone your soccer skills and have a fun time! No equipment needed. Just wear your soccer gear and a pair of sneakers or turf shoes (no cleats please). A fun and inexpensive way to celebrate the end of soccer season with your team or friends. Call 410-658-4343 x30 to set up your date and time today!
FootGolf ~ New Fall Rates!
You can play FootGolf any day of the week at Chesapeake Bay Golf Club's Rising Sun Course. It's fun and inexpensive! Adults $15, Juniors Age 18 & Under $10, Family of 4 Group Rate $30. Come out and try the coolest new sport on earth!
Request Event Info | Call 410-658-4343 x30