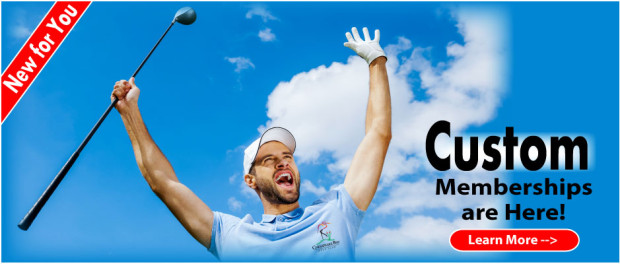 This is what you've been waiting for! Chesapeake Bay Golf Club's new Custom Membership Program is perfect for frequent players and fans of Chesapeake Bay Golf Club, former members, and borderline members. Our brand new custom membership program provides a unique opportunity to officially join Chesapeake Bay Golf Club's Membership – with complete control and minimal commitment. And as always, you get privileges at both our North East and Rising Sun Courses – an unparalleled value with two amazing courses in great condition.
Nearly every golf course requires a full 12 month commitment to play unlimited golf, but here at Chesapeake Bay Golf Club, we have designed a unique program to cater to YOUR taste. Although our Full Regular Membership offers the maximum golf experience at Chesapeake Bay Golf Club, we understand that many of you cannot commit to the full year for various reasons. For example, you may only live here during the summer, or have an upcoming surgery and will miss the latter half of the season. You may be a junior golfer or college student who is looking for a place to play on your 3 month summer break. For the first time ever, you can now purchase 2-month memberships, 3-month memberships, 9-month memberships, you name it.  Take control of your golf experience here at Chesapeake Bay Golf Club like never before. Choose what you want and when, with as much commitment as you choose.
Ready to Customize? Contact Us at 410-287-0200 x3
Your Game, Your Way!
So how does the custom membership program work? It is a simple, four step process.
Step #1 – Choose Your Months
The first step you choose which months you want to play. It's your choice. If you want to play golf in April, July, and November only, you can do that. If you want May through September, you can do that too. If you know you are taking a vacation, leave that month off if you want.
Step #2 – Privileges
The next step is privileges, such as adding a Cart, the option to play Weekends, the options to play Prime Time (before 11 AM), and even range privileges. You pick what you want, no need to sign up for preset packages. There's even a slight discount if you choose to be a Twilight (after 3 PM) Member!
Step #3 – Discounts
The third step is everyone's favorite: the discount. Senior or military? Take 20% off your current total. Junior? Take 60% off. Want to only play the North East course? Get 30% off. After that, additional discounts are added if you selected to be a Twilight Member or if you selected all available months.
Step #4 – Family Plan
The final step is the family plan. A totally optional step, but if you are looking to get your wife/husband/son/daughter out on the course under your plan, it's a simple matter of adding a multiplier to your current cost. Adding a Junior to your membership is a 1.2x multiplier, adding a Spouse is a 1.25x multiplier, and adding an Entire Family Plan is a 1.45x multiplier.
All in all, our Custom Membership Program puts you in control of your membership experience at Chesapeake Bay Golf Club. No more preset options telling you what you can and can't get at what set price.  Choose your own plan, make it unique for you. Accommodate YOUR schedule. Get the most out of your game and out of your favorite courses here at Chesapeake Bay Golf Club.
So, tell us, what kind of member are YOU?