Love Chesapeake? Play the BEST Conditioned Course in the Area & Save Big by Joining On or Before April 1st.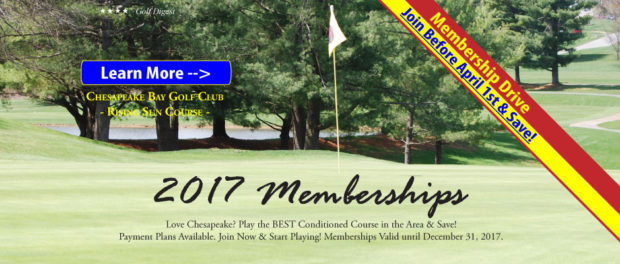 2017 Golf  Memberships • FootGolf Memberships

Join on or Before April 1, 2017 for GREAT Savings!
Membership Page | 2017 Membership Application Form
Sales: 410-658-4343 x26
Chesapeake Bay Golf Club unveils its 2017 Golf Memberships & FootGolf Memberships for the Rising Sun Course. Join on or Before April 1, 2017 for GREAT Savings. Whether you choose Golf or FootGolf, you'll enjoy the best conditioned course in the area all year. Join now and start playing today!
Membership Plans
Chesapeake Bay Golf Club offers a variety of affordable 7 Day or 5 Day Membership Plan Options. Our Golf Memberships are designed to give you maximum playing privileges, fun and competitive tournaments, and the social and family environment you look forward to at our Rising Sun Course.  If you Join on or before April 1, 2017 you'll take advantage of our Special Savings offers. That means the more you play, the more you'll save.
Membership Incentives
New to Chesapeake? We've got some amazing new member incentives – the more you bring, the more you save as a group! Current Members – refer a friend that joins as a new member, and get a $75 Thank You Gift Card to use for Golf or Pro Shop Merchandise in 2017. Add a Junior to Any Membership – get FootGolf Included!
Rated 4 Stars by Golf Digest and Cecil County's 'Favorite Public Golf Course' by readers of the Cecil Whig since 2009, Chesapeake Bay Golf Club's Rising Sun Course is in great condition and offers Legendary Greens and Affordable Family Fun with Golf, FootGolf, Driving Range Use and the Players Grille Restaurant.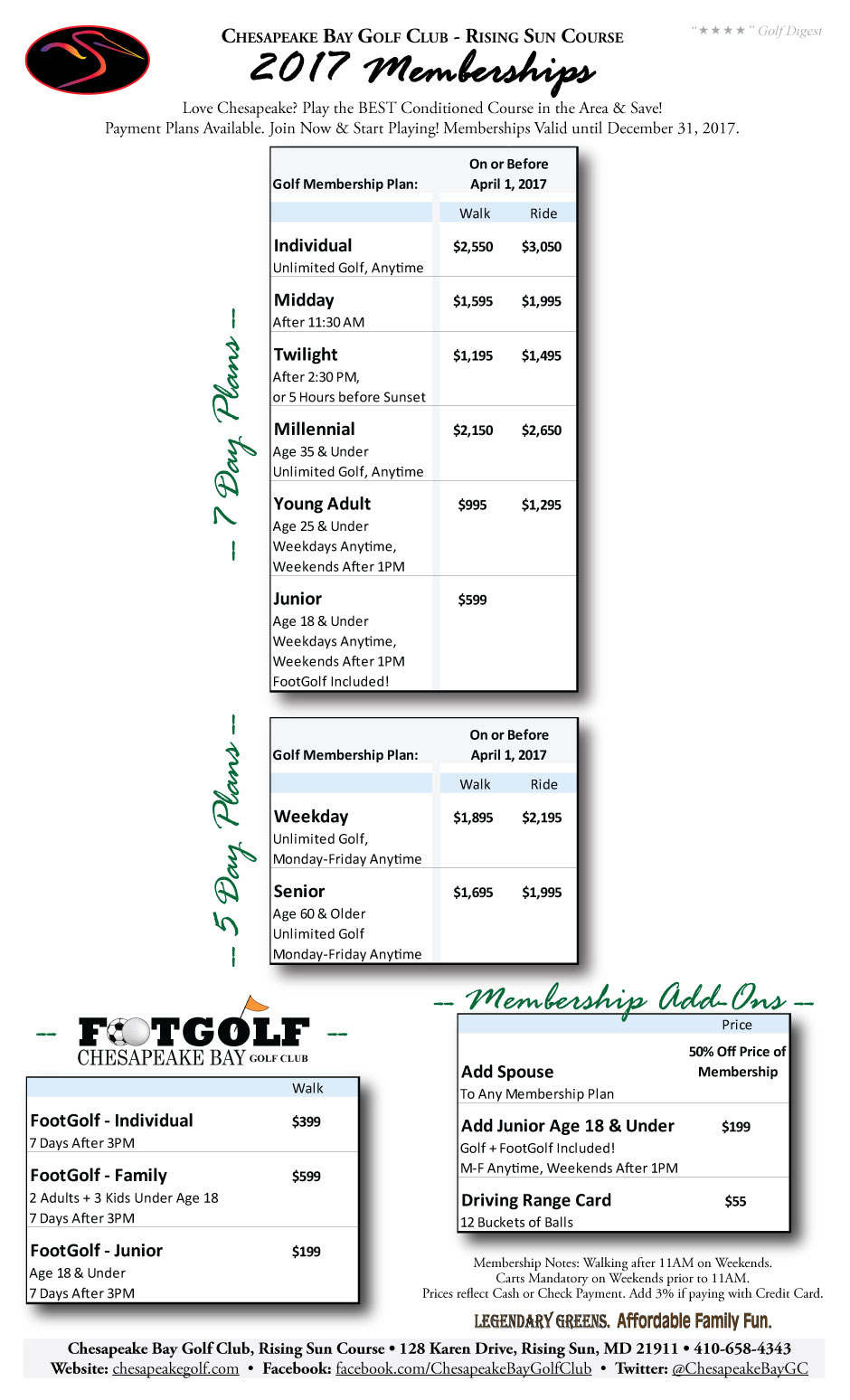 Membership Benefits
Join Now & Start Playing!
Memberships valid until 12/31/17
Members get specially blocked off priority premium tee times
Preferred tee times for Members 14 Days in Advance
USGA Handicap
Member Guest Fee – $10 Off Posted Rate
Pro Shop Merchandise – Special Member Pricing
Beer – Special Member Pricing
Membership Banquet Special Offer – Bring your special event to us and receive 12% Off all Food & Beverage
Offered Member Tournaments, Clinics and Special Events
All Members are eligible for Tournament Play. CBGC offers a competitive and fun selection of tournaments – everyone gets a chance to win with both Net & Gross Prizes with Website & Facebook recognition.
Note: a $40 Greens Fee rate will apply for Members that do not have Weekend Morning privileges when playing in early scheduled weekend tournaments.
Corporate and Small Business Memberships Available
"Member Minute" E-Newsletter
Certificate for $15 Off the 2017 Victory Golf Pass book.
Memberships are Non-Refundable.
2017 New Member Incentives!
Attention New Members… Join as a Group and Save!
4-8 New Members – Save 3%
9-12 New Members – Save 5%
13-16 New Members – Save 8%
17-20 New Members – Save 10%
Current / Returning Member Bonus
Refer-A-Friend Special Offer
Members! Refer a friend and bring them in a New Member for 2017, and you will receive a $75 CBGC Gift Card!
Use at the Rising Sun Course for Golf or Pro Shop Merchandise in 2017.
Payment Plans Available
Need to spread out your payments? Our Payment Plans follow this schedule:
1/2 Down Payment
1/4 Due
1/4 Due
Your sales representative will go over the specific dates and details upon sign-up.
Rising Sun Course Features & Amenities
"Legendary Greens. Affordable Family Fun." That is what Chesapeake Bay Golf Club is all about!
Great Golf + FootGolf:

Chesapeake Bay Golf Club offers a variety of competitive and fun golf tournaments and events throughout the year! We offer exclusive events just for our Members and Members of our Men's and Ladies Golf Associations.
Join our Men's or Ladies Golf Associations for even more opportunities to play. Weekend Gaggles, special tournaments, socials & more!
Rated "4 Stars" by Golf Digest
Rated Cecil's "Favorite Public Golf Course" by Cecil Whig Readers
1st Accredited AFGL FootGolf Course in Maryland
Fun Extras like Leagues, Clinics, & more!

Dining:

The Players Grille at the Rising Sun Course features casual, pub fare, food & drink specials, flat screen TVs with golf course views.

Family Fun:

FootGolf ~ the fusion of Soccer and Golf. Great fun for the whole family and anyone can play! Perfect also for Kids Parties & Group Outings!
Driving Range ~ Practice and fine tune your game.
Putting Green ~ Adults and Kids alike will benefit from their practice time on the putting green!
Junior Golf Camps & Junior Lesson Programs ~ We're committed to teaching the next generation to learn and enjoy the great game of golf.
Need more information? Contact our Professional Staff: 410-658-4343 x26