Chesapeake Bay Golf Club
Rising Sun Course • North East Course

Public Golf Rates / FootGolf Rates
Rising Sun Course: Tee Time Online  or Pro Shop 410-658-4343 x26
Map & Directions  |  Contact Us  |  Online-Only Golf Specials – Join our Mailing List
Golf Rates / FootGolf Rates – Rising Sun Course
Public Golf Rates + and FootGolf Rates at Chesapeake Bay Golf Club's Rising Sun Course.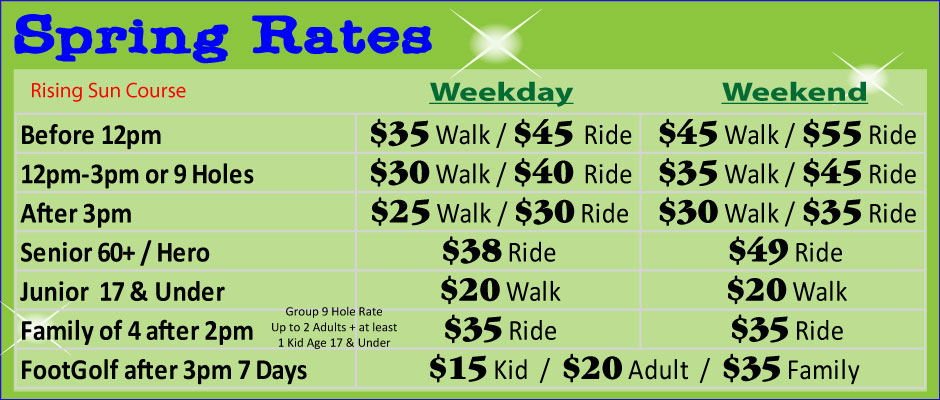 Spring Golf & FootGolf Rates as of April 11, 2017
---
Call for a Tee Time / Contact Pro Shop
Rising Sun Course:  410-658-4343 ext. 26
About Us
Chesapeake Bay Golf Club features two Golf Courses Open to the Public in Rising Sun and North East Maryland, conveniently located off I-95 Exit 100 just minutes from Elkton Maryland and the borders of Pennsylvania and Delaware.
Rated 4 Stars by Golf Digest, our Rising Sun Course provides a classic links style round with open fairways and manicured tees and greens. Our Rising Sun also offers FootGolf ~ the cool fusion of soccer and golf.
At our North East Course, you'll meander through forest, around wetlands, along rolling hills and down fairways lined with trees. Our North East Course is truly "Your Link with Nature" – you'll experience a variety of wildlife, natural beauty and the challenge of our 18 Hole Championship course. Be sure to stop by our Blue Heron Grille restaurant for delicious, fresh, regional fare and pub food.