Frozen Mondays – Winter Golf League
Winter League 9:30 AM Modified Shotgun Mondays Starting November 7th at Rising Sun.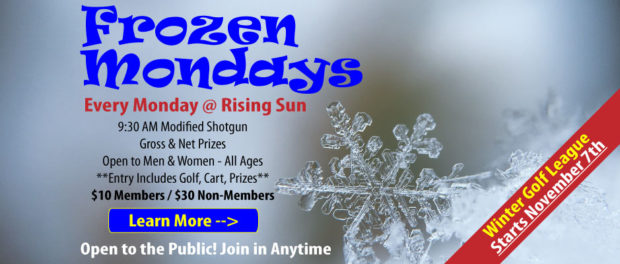 New! Frozen Mondays Winter Golf League
Fun Winter Golf League – No Commitment – Join in Anytime!
9:30 AM Mondays @ Rising Sun Course November-March
Open to the Public – Men & Women – All Ages
Pro Shop 410-658-4343 x26
Chesapeake Bay Golf Club's new "Frozen Mondays" Winter Golf League is Open to the Public for Men & Women all ages and skill levels. Gross & Net Prizes weekly. It's Off-Season Fun every Monday at the Rising Sun Course.
Winter League Details:
Golf EVERY Monday November-March
Chesapeake Bay Golf Club's Rising Sun Course
9:30 AM Modified Shotgun
Gross & Net Prizes
Open to Men & Women – All Ages
No Commitments – Play when you can
*Entry Includes Golf, Cart, Prizes*
$10 Members / $30 Non-Members