FootGolf Soccer Team Special!
End of Soccer Season Celebration!
VALUABLE COUPONS INSIDE! FootGolf Team Special, Family 6 Pack, Kids Parties!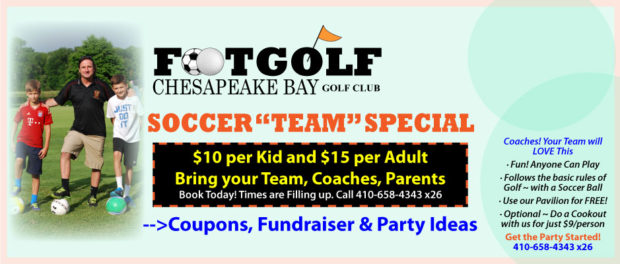 Soccer Team FootGolf Party Special Offer!
Request a FootGolf Party | Contact Sales Team 410-658-4343 x26
Attention Soccer Fans, Teams, Parents and Coaches. FootGolf is a fun way to celebrate soccer any time of the year! For a fun soccer team start or end-of-season party, kids birthday parties or just a fun day out with friends, consider a round of FootGolf! Print Flier below for awesome coupons for FootGolf Team Parties, FootGolf Family Fun, and FootGolf Kids Parties!
Soccer Team FootGolf Special:
Special Offer! Only $10 per player – including Coaches!
Ask about our Team Fundraising Ideas
Anyone can play ~ all Ages and Skill levels
Bring your Team, Coaches, Parents
Use our Pavilion for FREE!
Optional Cookout ~ just add $9 per person that includes:

Soft Drinks
Burgers & Hot Dogs
Lettuce, Tomato, Onion, Pickles, Sliced Cheese, Ketchup, Mustard, Mayo, Relish
Chips
Creamy Mac & Cheese
Fresh House Baked Cookies!

Book your Team Celebration Today! Special Offer for a Limited Time only. Call 410-658-4343 x26 to reserve your Kick Off Date and Time.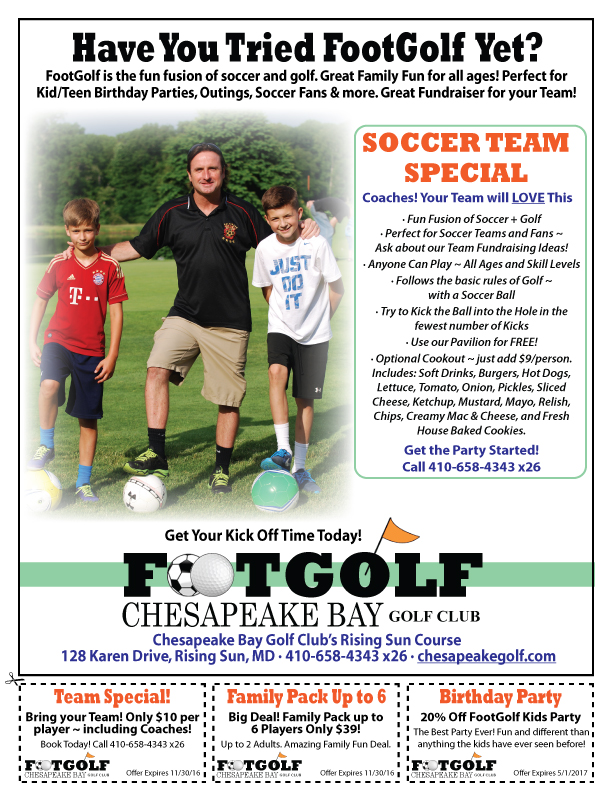 ---
FootGolf is Fun! Anyone Can Play
One of the best things about FootGolf is that anyone can play! FootGolf follows the basic rules of golf but without clubs, just a soccer ball! Try to kick the ball into the hole in the fewest kicks possible. Try to make par – 3 kicks, 4 kicks, 5 kicks! A great way to hone your soccer skills and have a fun time. No equipment needed. Just wear your soccer gear and a pair of sneakers or turf shoes (no cleats please). FootGolf is a fun and inexpensive way to celebrate the end of the soccer season with your team and friends. Call 410-658-4343 x26 to set up your date and time today!