Breakfast & More now featured at the Players Grille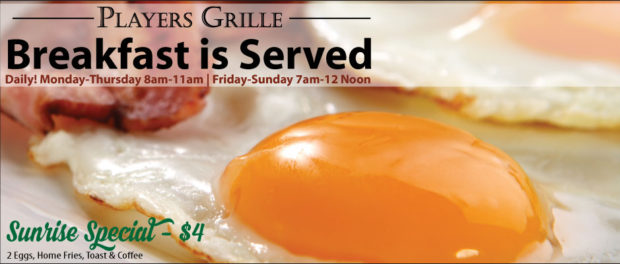 All New Breakfast Menu
Served Daily in the Players Grille
View Players Grille Full Menu
Breakfast Served Mon-Thur 8am-11am | Fri-Sun 7am-12 Noon
Chesapeake Bay Golf Club's Players Grille is now serving Breakfast Daily!
Our delicious new Breakfast Menu features all your sweet and savory favorites including French Toast, Pancakes, Creamed Chipped Beef, Breakfast Sandwiches and our hearty and affordable Sunrise Breakfast Special that includes 2 Eggs Your Way, Home Fries, Toast and Coffee.
Breakfast Menu
SUNRISE BREAKFAST SPECIAL – $4
2 Eggs any Style, served with Hash Browns, choice of Toast and Coffee
SHORT STACK OF PANCAKES – $6
with choice of Bacon or Sausage Patty
FRENCH TOAST – $6
served with choice of Bacon or Sausage Patty
BREAKFAST SANDWICH – $6
Egg with choice of Cheese (American, Cheddar, Provolone, Swiss), Bacon, Sausage Patty, or Ham on Wheat, White or Rye Toast, Bagel or Biscuit
CREAMED CHIPPED BEEF – $7
served over Biscuit or Toast, with Home Fries
SAUSAGE GRAVY – $7
served over Biscuit or Toast, with Home Fries
BAKED OATMEAL
Bowl w/ Side of Milk – $3.50 • Topped w/ Fruit – $4
Add One Egg any Style to Menu Item – $.75
Side of Bacon (4 Pieces) – $2
Side of Sausage (1 Patty) – $2
Side of Sausage Gravy – $2
Side of Chipped Beef – $2
Yogurt Parfait – $4
Fresh Fruit Cup – $1.50
Bagel – $1.50 / with Cream Cheese $2
Muffin – $1.50
Fresh Brewed Coffee – Large $2 / Small $1
Juice – $1.50
Orange, Apple, Cranberry, Pineapple, V-8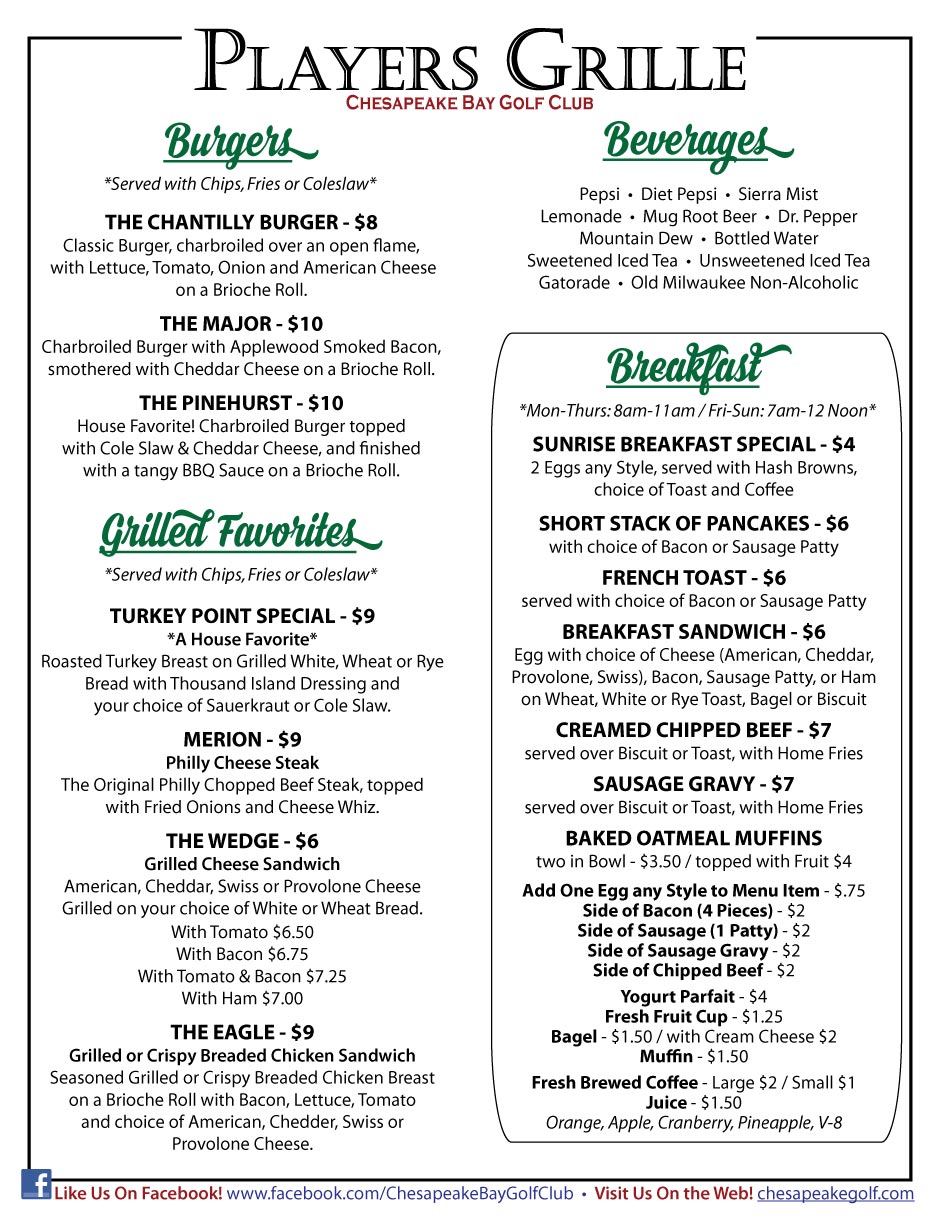 ---
About The Players Grille
The Players Grille at Chesapeake Bay Golf Club is open to the public and offers a delicious, affordable dining menu and full service bar in a relaxed atmosphere. Our newly expanded grille room features numerous flat screen televisions, leather lounge chairs, and a casual atmosphere to relax, dine and drink before or after your round of golf or footgolf.
Choose Chesapeake Bay Golf Club for your next Event!
Activities:
18 Holes of Championship Golf and FootGolf
Perfect for Outings, Corporate Events, Charitable Fundraisers, Teambuilding, Groom's Outings, Family Reunions, Birthday Parties & More!
4 Gorgeous All New Venues:
Chantilly Ballroom
Players Grille
Party Pavilion
Lawn Terrace Overlooking the Lake & Manor House
4 Locations to Choose for your Wedding, Rehearsal Dinner, Bridal or Baby Shower, Holiday Party, Condolence Reception, Anniversary, Retirement, Prom, Sweet Sixteen, Graduation, Renewal of Vows, or special occasion!
Interested? Contact our Sales Staff at 410-658-4343 x22 or fill out our Event Request Form